Behind the Book: Five Feathered Tales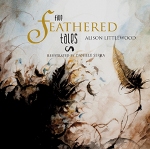 "Alison Littlewood has a real talent for building atmosphere, loaded with the promise of things to come."—Keith Brooke, The Guardian
Imagine five feathers, their colours ranging from deepest black to purest white, with flashes of bright gold . . . and each has a story to tell. A young boy seeks true magic in the circus ring; a city dweller finds himself living among rooftop outcasts; a girl born of the desert sees the desires of those around her in the palm of her hand; a mother and daughter seek transformations in the black and white feathers of their own twisted fairy tales.
A partnership between an award-winning writer and illustrator, Five Feathered Tales brings together short stories by Alison Littlewood with the darkly fantastical artwork of Daniele Serra. It includes an introduction by Peter Tennant of TTA Press.
With each story exquisitely illustrated, this volume is printed throughout in full premium colour. It includes Black Feathers, first published in Black Static magazine, along with a sequel, White Feathers, and three other new stories.
"Unique and stunning. Daniele is a fantastic artist." —Joe R. Lansdale
"Daniele Serra makes art of great sensitivity and subtlety—he can communicate more in the shape of a line and the shade of a tint than many painters convey in an entire canvas. Look into his work and it looks deep into you." —Ramsey Campbell
RRP Price: £28.95 (Signed Deluxe Limited Edition Hardcover)
RRP Price: £22.95 (Deluxe Hardcover)
Five Feathered Tales is available from the publisher, Short, Scary Tales Publications, and other good outlets.