A brief blog with some nice things
Happy New Year!
And to ignore world events for just a few minutes, I'm going to post here some lovely recent reviews of anthologies that include my stories.
Not forgetting a big thank you to the reviewers, editors, cover artists, publishers and of course readers who are the life blood of this genre!
The Blue Book Balloon has covered the After Sundown anthology, edited by Mark Morris. This is what they had to say about my story, Swanskin:
"I also really enjoyed Swanskin by Alison Littlewood, a chilling take set in a remote coastal town, where the boozy, rollicking behaviour of the town's men turns out to have a direct link to their abuse of nature and of their womenfolk. But nature can have a way of redressing the balance. Set at some indeterminate time which could be anywhere in the past two hundred years, this one has the feeling of a classic."
Read the rest of the in-depth review here.
Horla have also covered After Sundown, with these kind words for Swanskin:
"Littlewood's story is a reminder – if there were any who needed it – that horror has, at times, every right to sit at the top table of 'literary fiction'. It's an often beautiful and compelling piece that had me thinking of Daphne du Maurier."
The full piece is here.
Finally, a review at Ginger Nuts of Horror for Best New Horror #30, edited by Stephen Jones:
"Alison Littlewood's excellent 'The Marvellous Talking Machine' conveys a feeling of dread by depicting a disquieting technical device, while Rio Youers' very dark and quite enjoyable 'The Typewriter' revolves around a haunted typewriter endowed with evil powers."
Check out the rest of the write-up here.
The lovely Priya Sharma, author of All the Fabulous Beasts, just invited me to have a wander around my library and share some Shelfies. Hop on over to her blog here, if you'd like to partake in my wanderings and ramblings!
Thank you Priya!
I'm very proud, and indeed honoured, to be part of this mammoth anthology of short stories to benefit the NHS.
STORIES OF HOPE AND WONDER – a treasury of stories from across the genres of fantasy and science fiction. 53 stories; over 250,000 words. That's enough to help anyone while away a good number of reading hours during lockdown – and all proceeds are being donated to support NHS staff and other healthcare workers.
All contributors have donated their work. Special kudos goes to Ian Whates, the editor and owner of Newcon Press, who has given untold hours to pull this together.
This digital anthology is available now for Kindle – please do consider purchasing a copy here.
CONTENTS:
Introduction by Ian Whates
Last Contact – Stephen Baxter
Slink-Thinking – Frances Hardinge
Gossamer – Ian Whates
The Feather Dress – Lisa Tuttle
The Man Who Swallowed Himself – Chris Beckett
Fat Man in the Bardo – Ken MacLeod
Kings of Eternity – Eric Brown
Muscadet Kiss – Michèle Roberts
Dead Space – George Mann
The Trace – Christopher Priest
Golden Wing, Silver Eye – Cat Hellisen
The Golden Nose – Neil Williamson
On Ilkley Moor – Alison Littlewood
About Helen – Tade Thompson
Iphigenia in Aulis – M.R. Carey
Just Watch Me – Lesley Glaister
The Family Football – Ian R. MacLeod
The Grave-Digger's Tale – Simon Clark
The All-Nighter – Mark Morris
Her Seal Skin Coat – Lauren Beukes
A Conclusion – Paul Cornell
Liberty Bird – Jaine Fenn
The Ki-Anna – Gwyneth Jones
Scienceville – Gary Gibson
The Sphere – Juliet E. McKenna
An Eligible Boy – Ian McDonald
The Quick Child – Jane Rogers
Trademark Bugs: A Legal History – Adam Roberts
Working on the Ward – Tim Pears
During the Dance – Mark Lawrence
Out of the Woods – Ramsey Campbell
Trick of the Light – Tim Lebbon
Roman Games – Anne Nicholls
Digits – Robert Shearman
The Fox Maiden – Priya Sharma
Roads of Silver, Paths of Gold – Emmi Itäranta
All Deaths Well Intention'd – RJ Barker
Epilogue: England, Summer 1558 – Jon Courtenay Grimwood
The Christmas Repentance of the Mole Butcher of Tetbury – Aliya Whiteley
Gulliver's Travels Into Several Remote Nations Of The World, Part V: A Voyage To The Island Of The Wolves – Philip Palmer
Barking Mad – Ian Watson
Lady with a Rose – Reggie Oliver
Missing – Blake Morrison
What We Sometimes Do, Without Thinking – Mark West
Events – Stan Nicholls
Wars of Worldcraft – Adrian Tchaikovsky
Fixer, Worker, Singer – Natalia Theodoridou
Witness – Kim Lakin-Smith
Unravel – Ren Warom
Like Clockwork – Tim Major
A Million Reasons Why – Nick Wood
The Road to the Sea – Lavie Tidhar
Ten Love Songs to Change the World – Peter F. Hamilton
"STORIES OF HOPE AND WONDER contains a rich and varied treasury of quality stories, from dark to light, humorous to menacing, clever to exciting. Fifty-three stories in all, more than a quarter-million words of fiction, including several pieces that are original to the book, featuring some of the finest writers of science fiction, literary fiction, fantasy, horror, and more." Peter Crowther, PS Publishing.
No, not one of *those* escape rooms – this is all about my writing space! The lovely Georgina Bruce (of the splendid hair and amazing leggings fame, not to mention the author of wonderful short story collection This House of Wounds), has interviewed me about where I write.
So with no more ado, here it is – complete with wonky floors, equally wonky desks, skull monsters and the occasional canine distraction or two…
This is one of those posts looking back at some of the great events I attended in 2019, and looking forward to what's coming up in 2020. My excuse is that it's January, named for the god Janus, with one face looking to the past and one to the future, but of course it's really because I'm so late with the event write-ups! I did mean to be organised, honestly I did, but things somehow got lost in the rush of getting ready for Christmas and mince pies and too much cheese and indeed forgetting what day it is…
So with no more ado – some of the grand days out of 2019!
Here I am with SJ Bradley of the Northern Short Story Festival and Lucie McKnight Hardy, my fellow speaker, at an event at Leeds Library. This took place amid a torrential rainstorm for added atmosphere, and for a second surprise –  well, who knew there was a library tucked away behind the shops and banks right on Commercial Street? Not only that but an ancient, creaking, reputedly haunted library, just perfect for the telling of spooky tales.
First there were some open-mic readings which were all terrific, and then Lucie and I joined in. Lucie, I should say, has recently had her book Water Shall Refuse Them published, to wide acclaim. I've just begun reading it and am thoroughly enjoying it already. We had a lovely afternoon reading and chatting before braving the rain once more.
November brought with it colder weather and indeed the inaugural UK Ghost Story Festival, held by the brilliant Alex Davies and his team at the Quad in Derby. There was a wide range of panel discussions, workshops, interviews and talks, as well as lots of lovely bookish people to talk to.
I was so eager I actually managed to arrive before the Quad opened its doors, so first, a quick inspection of the giant pressies in the square:
I was on a couple of panels during the weekend. The photo shows the second of those, with Alex Davies, Marie O'Regan and James Everington, gamely discussing who wrote the finest ghost stories of all time. I also managed to catch up with the lovely Laura Purcell, author of The Corset, Adam Nevill of The Ritual fame, and had Andrew Michael Hurley sign a copy of Starve Acre.

All in all, the Ghost Story Festival was a fabulous event – here's hoping for many more!
On to December, and I was lucky enough to be invited along to the Lindum Books Christmas party. Lindum is one of my favourite independent bookshops, being just lovely, and on a lovely street, and indeed in the lovely city of Lincoln. Everything about it is lovely, in fact – if you get the chance, I'd highly recommend a visit – and the party was no exception.
Everyone started off with tea and cakes in the medieval cellar of the ice cream parlour next door to the bookshop. Then I came along and gave a little talk about my new title Mistletoe, followed by a reading and a lively Q&A session. After that we repaired to the bookshop and I signed copies and chatted with everyone who came along. Thank you so much to Gill Hart for inviting me and the whole Lindum Books community for a last event of the year that was – well, lovely!
If that wasn't enough, I also met the uber-talented Ellen Lavelle, an up-and-coming freelancer, who did a lovely write-up of the event here.
And finally, I promised a looking forward bit, so I will just mention another event that's on the horizon – Stokercon, which is taking place outside the USA for the first time ever. It will be held in Scarborough from 16th to 19th April and looks set to be an absolutely terrific occasion. Organised by genre couple extraordinaire Marie O'Regan and Paul Kane, it already has a great line-up, with much, much more to come. I for one am excited!
With all best wishes for a happy and healthy 2020,
Alison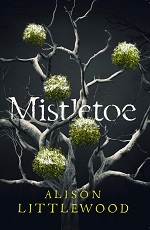 Short-listed for the British Fantasy Society's August Derleth Award.
Published in hardback in October 2019 by Jo Fletcher Books, an imprint of Quercus, and in paperback in September 2020.
Signed hardbacks are available from Forbidden Planet.
Mistletoe – a ghost story with glimpses into the Victorian era, bound up with the folklore of mistletoe and the origins of midwinter festivals . . .
From the cover:
Leah thought Maitland Farm could give her a new life – but now old ghosts are dragging her into the past.
Following the tragic deaths of her husband and son, Leah is looking for a new life. Determined to bury her grief in hard work and desperate to escape Christmas and the reminders of what she has lost, she rushes through the purchase of a run-down Yorkshire farmhouse, arriving just as the snow shrouds her new home.
It might look like the loveliest Christmas card, but it's soon clear it's not just the house that needs renovation: the land is in bad heart, too. As Leah sets to work, she begins to see visions of the farm's former occupants – and of the dark secrets that lie at the heart of Maitland Farm.
If Leah is to have a future, she must find a way to lay both her own past and theirs to rest – but the visions are becoming disturbingly real . . .
In the Media:
Featured in an interview at Breaking the Glass Slipper.
Mistletoe is one of the festive recommendations on the Hannah's Bookshelf Christmas Special, North Manchester FM.
Mistletoe is one of Crimesquad's top ten for 2019 Christmas crime.
Unmissables! Mistletoe is one of Heat Magazine's Hot New Books: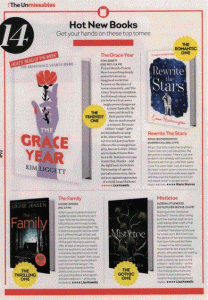 "Frightfully good!" Mistletoe is a Halloween pick in the Sunday Express.
Mistletoe is one of Bookriot's 'Best Spooky Books' for autumn.
Winter Chills: Five of the Best – I share my top winter reads at Ginger Nuts of Horror.
BBC Radio Leeds – Richard Stead Breakfast Show (in the slot beginning at 1:50).
An author interview is up now at Nest of Books.
Halloween Q&A at Bookends.
Read writer Ellen Lavelle's account of a Mistletoe-strewn evening at Lindum Books.
An interview by Alyson Faye at The Horror Tree.
Another interview, this time at Kendall Reviews.
An audio interview hosted by author Madeleine D'Este is up now at Write Through the Roof.
Reviews:
"Her best yet . . . Mistletoe is a creepy, page-turning triumph enlivened with excellent folkloric details, beautiful descriptions of winter landscapes and sensitive characterisation." Eric Brown, The Guardian
"This chilling slice of ghostly Gothic fiction is the perfect read for the upcoming frosty nights." Lisa Howells, Heat Magazine.
"A superior haunted house story, then, and one with plenty of heart, too." The Crack
"The snowy landscape of contemporary Yorkshire adds an extra chill to Alison Littlewood's spooky ghost story. Before long, echoes of the past start to intrude on Leah's present as a deceased family seem intent on taking the place of the one she's lost." Eithne Farry, Sunday Express.
"The snow's a-lying heavy on the barren fields and the wind's a-wuthering through the blighted orchard . . . but Leah's a stayer, even when she finds herself re-living a 19th century Christmas nightmare in this time-slippy tale of loss, lust, grief . . ." Daily Mail.
"Mourning the deaths of her husband and son, Leah retreats to an isolated Yorkshire farmhouse just as the snow sets in and Christmas approaches. But the former residents make their presence felt, in this super spooky blend of murder mystery and old fashioned wintry ghost story." The People Magazine.
"A Christmas ghost story which sensitively deals with grief and loss. This is a perfect spooky book to snuggle up with on a frosty night." Bookriot.
"Alison Littlewood masterfully set the scene for this thrilling read in the first few chapters like a true great of the genre (Shirley Jackson springs to mind – with the brooding horror and tension captured within Littlewood's prose) and in doing so creates a dark, and disturbing book. Amanda Brightman, Storgy
"Littlewood has created a realistic and fascinating protagonist with whom readers can sympathise. Add to this some exemplary uses of landscape that would make a Bronte proud, and readers will find that Mistletoe is horror as it should be, a classic ghost story for our modern times." Starburst Magazine
"Mistletoe is the latest offering from Alison Littlewood – a deeply emotive ghost story set in rural Yorkshire, and I think it might be her best yet. As always, the author vividly depicts the landscape of this novel and populates it with characters that speak to the heart. Highly recommended." Marie O'Regan, Sci-Fi Bulletin
"This is no benevolent past that's coming back to haunt her . . . You'll be feeling pretty damn cold in every sense at the end of this creepy number." Sunday Sport.
"The setting in Mistletoe is sublime . . . You can feel the cold emanating from off the pages and there is some evocative imagery on display with the snow-covered landscape . . . Mistletoe is a terrific ghost story and one that would make for ideal reading on those cold, dark and lonesome winter nights." The Tattooed Book Geek.
"Littlewood links the whole timeline of events to mistletoe and its appearance in folklore down the years. It is cleverly done and you do start to get into the characters quickly, aided by vivid descriptions of Christmas past… a classic ghostly tale." Stokie Boy
"The writing is very evocative and this is truly the perfect time of year to read this book. . . . the weather, the looming clouds, the burgeoning snow and the short days all add to the atmosphere because they are particularly well written.  In fact, there are a few ghostly moments contained in these pages that I confess set my pulse racing." Lynn's Book Blog
"It is, simply, a delight to read, a horror story but also a beautiful study of a woman very close to the edge, of friendship, loss and courage. Strongly recommended. (This book would definitely make an atmospheric Christmas read – or present – if you're looking for one). Blue Book Balloon
"WOW! I absolutely loved this book from start to finish . . . This is the first book I have read by Alison Littlewood but after reading this, it definitely won't be the last. It was well written and absolutely brilliant!" Stressed Rach Blog
"Mistletoe is best savoured in front of a fireplace on a long winter's night, preferably accompanied by hot punch and mince pies.  However, its delightful brand of spookiness ensures that, like Dickens' seasonal novels, it can be enjoyed all the year round." To the End of the Word
"All in all, Mistletoe is a number of things; chilling, atmospheric, evocative . . . Littlewood has written a great novel, and if you enjoy ghost stories and mysteries, this is definitely a book  for you." Page Turner's Nook
"With the set up beautifully painted in M R James style, the story of Leah and her past was absolutely riveting." Nest of Books
"Past and present are strongly bound in this story and this is one of the elements that makes it so enthralling… there're elements of hope and renewal that are part of the festive season. It was an excellent and fascinating read, highly recommended." Scrapping and Playing
"If that's not a perfect Christmas book, I don't know what is." Hannah Kate, North Manchester FM.
"Mistletoe is a Gothic Christmas tale – full of snow and folklore – with the eponymous plant working as an important symbol throughout the narrative. Leah moves to Maitland Farm, in part, to avoid Christmas, but it seems that some aspects of the season simply refuse to be ignored." Hannah Kate's festive recommendations.
"This was a delicious winter read… it takes the old elements of the ghost story and gives it a modern flourish." Run Along the Shelves
"She writes perfectly a stark landscape that is full of menace." Crimesquad
"Alison makes you, the reader, feel as though you are walking the frozen fields, and living in the run-down farmhouse with her protagonist." Alyson Faye, Kendall Reviews
"Beautifully crafted seasonal novel . . . I recommend reading this for your Christmas ghost story fix." Alyson Faye, Horror Tree
Author copies of Echoes: The Saga Anthology of Ghost Stories have landed, and very beautiful they are too! Also – they're HUGE! Nearly 800 pages of ghost story goodness lie within, curated by the amazing Ellen Datlow.
Writers include Paul Tremblay, Nathan Ballingrud, Alice Hoffman, Richard Kadrey, Seanan McGuire, Joyce Carol Oates, Carole Johnstone, Gemma Files, Aliette de Bodard and many more. It also includes a little trip to Cornwall from me, in the form of 'The July Girls'.
Hope you enjoy!
I was on BBC Radio Leeds last week, chatting about where night classes can take you and the unlikely places you can end up! There's also a little piece about my new book, Mistletoe, coming this October. The segment starts at 1:50. Big thank yous to presenter Richard Stead and producer Emma Foreman – you are lovely people!
The Richard Stead Breakfast Show
I was lucky enough to be asked to speak at MCM Comic Con Manchester in July – and a fine time was had by all! Here are some pics from the event…
Here's the star of the show, Michael Rooker – Yondu in Guardians of the Galaxy – getting stuck into The Crow Garden. And he really was a star, mixing with the visitors and being a great sport over this little photo opp! Naturally, when I thanked him, he replied with 'Well, I'm Mary Poppins, y'all!'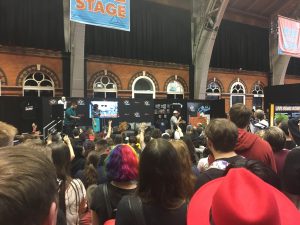 And here's the Live Stage, which looked terrifying to someone who's more used to wrestling with words on a laptop, but the discussion about genre fiction in everyday settings along with Heather Child turned out to be a lot of fun. Phew…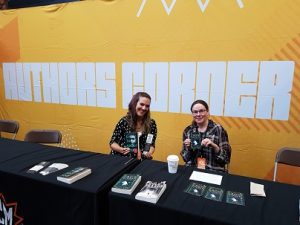 With the lovely Heather Child, author of Everything About You (which I have read and is terrific) and more recently The Undoing of Arlo Knott, in Authors' Corner. And now for some pics around the event…
Because Cybermen need holidays too.
Watched over by a Stormtrooper (Spider-man hanging out in the background).
So *these* are the droids you're looking for.
And that will be all, because I'm just off for a little walk with this fella. He promised me balloons. And cotton candy. And something about floating, not sure what, but I'm sure I'll find out…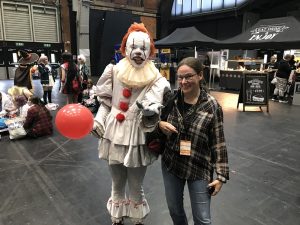 Details of the launch event for the Ten Word Tragedies anthology have now been released.
Sadly it's looking like I can't make it on the date, but it promises to be a great evening. Frank Turner will be along for a short set, and you can meet lovely editors Christopher Golden and Tim Lebbon. All three will then be signing copies of the anthology (which is looking beaaautiful, judging by the proofs I've just seen!)
Tickets and further info are available here.