A Curious Cartography
Tales of dark lore, inescapable hauntings, peculiar beasts, strange birds and mysterious happenings from across the known world and beyond…
The twenty stories in A Curious Cartography not only chart a writer's journey but range across the globe: from Vietnam to Sweden, from London to New York, from Cornwall to Lancashire and the Yorkshire coast. Some discover lands more curious still, beyond the reach of any map…
The signed, limited edition hardback is now available for pre-order from Black Shuck Books.
The Flowering is a micro-collection, published as one of Black Shuck's popular Shadows series. It features six short stories, all set in the Victorian era: The Zoetrope, The Marvellous Talking Machine, Meet Me at the Frost Fair, The Ballad Box, The Winter Tree and The Flowering.
Further information and order details are at: Black Shuck Books
Two lovely bits of writing news!
My story 'In the Wabe' has been selected for the upcoming Flame Tree Press anthology Close to Midnight, edited by Mark Morris. There's a terrific line-up, so it's lovely to be involved! It's a tale inspired by the Alice statue in Central Park, which I visited a scary ten years ago. It's not quite that long since I wrote another Alice's Adventures in Wonderland inspired story, for the Wonderland anthology edited by Marie O'Regan and Paul Kane, but somehow this idea kept nagging at me and prompting at me to revisit – once you fall down the rabbit hole, there's no escape! Anyway, this has a very different feel and is set in modern-day New York, where odd events take place around the statue and begin to spiral . . .
Here's the full Close to Midnight line-up:
Wolves – Rio Youers
Best Safe Life for You – Muriel Gray
Souvenirs – Sharon Gosling
The Operated – Ramsey Campbell
In the Wabe – Alison Littlewood
I Promise – Conrad Williams
Flat 19 – Jenn Ashworth
The Forbidden Sandwich – Carl Tait
Autumn Sugar – Philip Fracassi
Collagen – Seanan McGuire
Remains – Charlie Hughes
The Floor is Lava – Brian Keene
The True Colour of Blood – Stephen Laws
The Nine of Diamonds – Carole Johnstone
Room for the Night – Jonathan Janz
Welcome to the Lodge – Alison Moore
Going Home – Evelyn Teng
The Spaceman's Memory Box – Laura Mauro
Bags – Steve Rasnic Tem
Rise Up Together – Adam L.G. Nevill
Next up – my story 'Jenny Greenteeth', first published in Stephen Jones's The Mammoth Book of Folk Horror, has been selected by Paula Guran for the Year's Best Dark Fantasy & Horror, Volume 3. It's an honour to be picked – again, here's the full line-up!
G. V. Anderson, "Shuck" (Deadlands #2)
Seán Padraic Birnie, "Hand-Me -Down" (I Would Haunt You If I Could)
J. S. Breukelaar, "Where We Will Go On Together" (The Dark #70)
Rebecca Campbell, "The Bletted Woman" (F&SF 3-4/21)
Tananarive Due, "The Wishing Pool" (Uncanny #41)
Brian Evenson, "The Sequence" (Conjunctions 77)
Christopher Golden, "The God Bag" (Beyond the Veil, ed. Morris)
Elizabeth Hand, "For Sale By Owner" (When Things Get Dark, ed. Datlow)
Alix E. Harrow, "Mr. Death (Apex #121)
Maria Dahvana Headley, "Wolfsbane" (Nightmare #100)
Glen Hirshberg, "Jetty Sara" (December Tales, ed. Horn)
Stephen Graham Jones. "Refinery Road" (When Things Get Dark, ed. Datlow)
Richard Kadrey, "Across the Dark Water" (Tor.com)
Alison Littlewood, "Jenny Greenteeth" (Mammoth Book of Folk Horror, ed. Jones)
Chimedum Ohaegbu, "And for My Next Trick, I Have Disappeared" (F&SF 7-8/21)
Suzan Palumbo, "Laughter Among the Trees" (The Dark #69)
Sarah Pinsker, "Where Oaken Hearts Do Gather" (Uncanny #39)
David J. Schow, "Caving" (Weird Doom, ed Scoleri)
Molly Tanzer, "In the Garden of Ibn-Ghazi" (F&SF 3-4/21)
Sheree Renee Thomas, "Barefoot and Midnight" (Apex #122)
Steve Toase, "Beneath the Forest's Wilting Leaves" (To Drown in Dark Water)
Jade Wilburn, "Blood Ties"(Fiyah #18)
A.C. Wise, "The Nag Bride" (The Ghost Sequences)
The anthology will be published in October 2022 by Pyr Books.
It's lovely to see PS Publishing's new ParSec magazine heading out into the world, with the ever-capable Ian Whates in the editor's seat. There's a terrific line-up of fiction between the covers, which I'm most looking forward to reading – and it's especially lovely to see a review of The Cottingley Cuckoo in there too!
It's great when a reviewer obviously really gets where you're coming from in a book. The full review is in ParSec issue 1, but here are a few extracts to give you a flavour – all wrapped up in some lovely turns of phrase from reviewer Sara Lillwall:
"In itself, this plot is more than enough to seduce and disquiet the reader. Through The Cottingley Cuckoo, author A.J. Elwood decorates her gingerbread house with all the necessary trappings of a Grimm-esque fairytale – a wicked witch in Mrs Favell, a young maiden made to feel apart from her peers in Rose, and a journey which takes our heroine far from home and the safety of her woodsman.
"But Elwood isn't content and strips these layers aside with delicious abandon until she gets to the rich black marrow inside her story's bones. With bravery, Elwood addresses one of the great taboos of motherhood, that whispered by and about women and which lends itself so well to the accusation of 'unnatural.'
"Shimmering with wilful insurrection, The Cottingley Cuckoo is a beautiful feminist gothic."
Sara also has this to say about Mistletoe:
"In the author's other guise as Alison Littlewood, her focus falls on other lone females at odds with a supernatural foe. Littlewood's Mistletoe was a tour de force of brittle tension, its wintry crispness metamorphosing into the bleak isolation of Leah, a wife-and-mother in mourning. In both novels, it is not so much a case of the madwoman in the attic as the slow, subtle self-dissolution of women who don't fit the societal mould."
A huge thank you to Sara Lillwall, then, and a big welcoming round of applause for Parsec! Full details of the contents and subscription information can be found over at PS Publishing. There are also some submissions guidelines here, if you fancy getting involved.
Join us at Midsummer Macabre for story readings by the authors!
This video showcase features stories by me, Simon Clark, Paul Finch and host Joseph Freeman. My story is an abridged version of The July Girls, which was first published in the Echoes anthology edited by Ellen Datlow.
Thank you to Joseph for having me along!
There's a really interesting analysis of my short story, The Headland of Black Rock, in this article – Endangered Shorelines and Absent Solastalgia In Recent English, Irish and Northern Irish Short Fiction. It's by Katharina Andrea Kalthoff and LeonieWindt-Wetzel and published at Textpraxis.
The Headland of Black Rock is based on some lovely mermaidy Cornish folklore and set near Land's End. It was first published in the This Dreaming Isle anthology.
It's an absolute honour to have been shortlisted for the ALCS Tom-Gallon Trust Award, supported by the Society of Authors. The shortlisting is for my short story, Swanskin, which was published in the After Sundown anthology edited by Mark Morris.
The full shortlist is: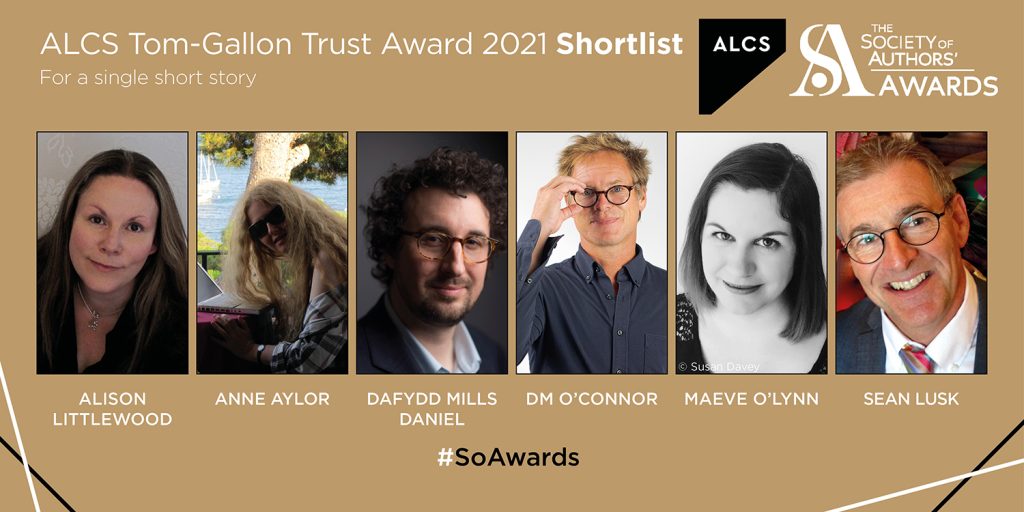 Eventually Meeting the Sky Somewhere by Maeve O'Lynn
The Hopelessness of Hope by Sean Lusk
The House of Wild Beasts by Anne Aylor
I Told You Not to Fly So High by DM O'Connor
Swanskin by Alison Littlewood
What The Deal Is by Dafydd Mills Daniel
Judge Ardashir Vakil said the shortlisted works were 'beautifully crafted, quirky, atmospheric and touching'.
Full details of the SoA Awards can be found here.
I've recently been asked to write a couple of guest blog posts with a 'Top five' theme. Here they are . . .
Five Dark Tales of the Good Folk – a round-up of some darkly mysterious fairy fiction at Ginger Nuts of Horror.
Five Most Misunderstood Female Fairies – over at Female First. OK, number five may be kind of a surprise!
I've also been chatting with podcast host Mark Goddard, who asked me to pick three of my favourite books to talk about. Here they are at the aptly named Bloody Good Reads.
Thanks to everyone for having me along!
So The Cottingley Cuckoo flew off into the wild on 14th April. And because Team Titan are very clever peeps, that wasn't any old day – it was in fact St. Tiburtius Day, which is traditionally when the first cuckoo of the year is heard. And thank you to Victoria on Twitter, who contacted me to say she did in fact hear a cuckoo on that very day! Let's hope it's a good omen . . .
As if that wasn't all, here's something else the Titan gang cooked up – celebratory book cover Easter eggs! Eggstraordinary (sorry, couldn't help it!)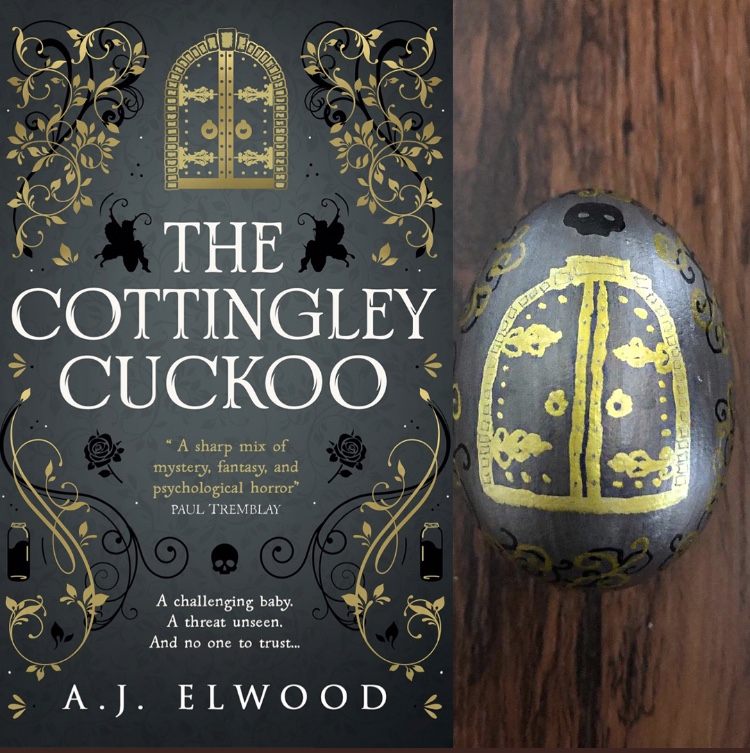 A HUGE thank you to everyone who has blogged, blurbed, shared, bought and indeed read the book so far. Some early comments and reviews can be found on the Behind the Book page.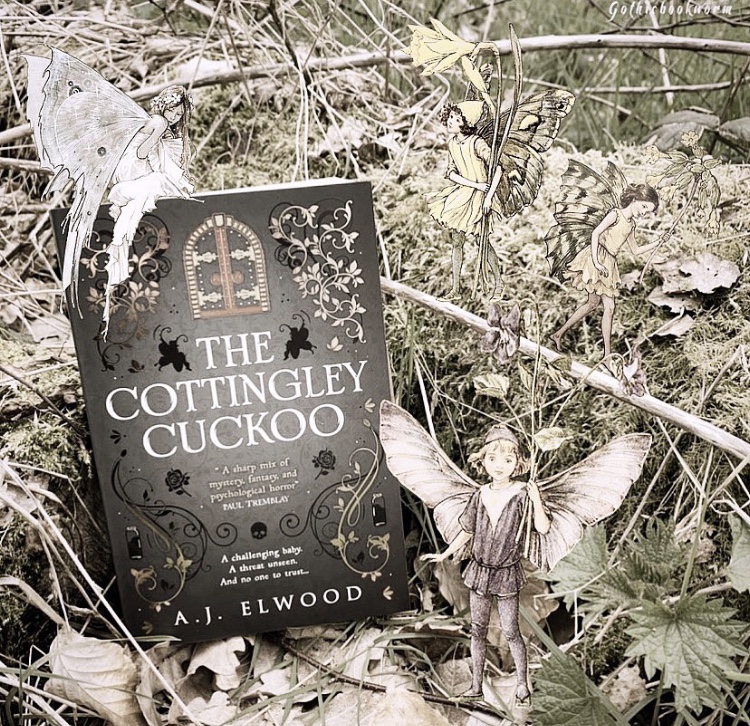 The Cottingley Cuckoo – April 2021.
From the cover:
Captivated by books and stories, Rose dreams of a life away from the confines of the Sunnyside Care Home she works in, until elderly resident Charlotte Favell offers an unexpected glimpse of enchantment.
She keeps an aged stack of letters about the Cottingley Fairies, the photographs made famous by Arthur Conan Doyle, but later dismissed as a hoax. The letters insist there is proof that the fairies existed. Rose is eager to learn more, but Charlotte allows her to read only a piece at a time, drawing Rose into her web.
As the letters' content grows more menacing, Rose discovers she is unexpectedly pregnant, and feels another door to the future has slammed. Her obsession with what really happened in Cottingley all those years ago spirals; as inexplicable events begin to occur inside her home, she begins to entertain dark thoughts about her baby and its origins.
Cover reveal and extract:
See the original cover announcement and read an extract at Ginger Nuts of Horror.
News from Titan
More information and purchasing information from the publisher, Titan Books.
Looking Ahead – news of The Cottingley Cuckoo at Titan's blog. "This dark, chilling fairy tale is an eerie reimagining of the famous Cottingley fairy photograph hoax of the 1920s . . . an atmospheric and enthralling read, dripping with a sinister edge that will keep readers gasping until the final, disturbing conclusion. You have been warned."
In the Media
Folklore and fairy tales, Cottingley and writing matters: the Night Parlor podcast by Joshua Rex.
The Cottingley Cuckoo, writing career and three favourite books – the Bloody Good Reads podcast.
An interview is up at Runalong the Shelves.
Interview on Gayle Lofthouse's mid-morning show, BBC Radio Leeds. (The Cottingley Cuckoo discussion starts at 1:19.)
Featured in BBC Culture article, Why we are Living in Gothic Times.
Interview on Penistone FM, the Alex Barrett Show, Thursday 29th April.
The Cottingley Cuckoo is featured in the Bradford Telegraph and Argus.
The Cottingley Cuckoo is one of author Paul Finch's 'good, dark reads coming your way.'
AJ Elwood's Five Dark Tales of the Good Folk – an article at Ginger Nuts of Horror
AJ Elwood's Five Most Misunderstood Female Fairies – an article at Female First
Reviews
"The character depth was astonishing, the physical descriptions tangible, the aberrant psychology fizzing and tactile . . . it blew me away." Stephen Volk, screenwriter (The Awakening, Ghostwatch) and author of Under a Raven's Wing
"Unease escalates into dread in a very accomplished blend of dark fantasy and psychological thriller." Lisa Tuttle, The Guardian
"Author A.J. Elwood decorates her gingerbread house with all the necessary trappings of a Grimm-esque fairytale – a wicked witch in Mrs Favell, a young maiden made to feel apart from her peers in Rose, and a journey which takes our heroine far from home and the safety of her woodsman. But Elwood isn't content and strips these layers aside with delicious abandon until she gets to the rich black marrow inside her story's bones… Shimmering with wilful insurrection, The Cottingley Cuckoo is a beautiful feminist gothic." Sara Lillwall, ParSec Magazine
"I found this book just incredibly good, so powerful and so true . . . It is not a horror story. It is a horror story. It's just amazing." The Blue Book Balloon
"We have three wonderfully fortean concepts to start with. We all know that fairies, even if they might sometimes be pretty, delicate little winged creatures, are rarely benign, and in A. J. Elwood's The Cottingley Cuckoo we learn (perhaps) just how vindictive they can be…" David V. Barrett, Fortean Times
"Elwood's writing is confident, crystal-clear, and deeply evocative; I found the book deeply chilling, and wouldn't hesitate to recommend it to anyone looking for literary supernatural horror with an interesting and unusual use of its period setting." Ally Wilkes, Horrified Magazine
"The final scenes in both time periods we visit are confrontational, dangerous, and reckless . . . A fascinating tale and well worth a look." RunAlongTheShelves
"Overall, I loved this novel and the amount of depth it had . . . This story enchants its readers and will have them thinking about the book long after you've read the spine chilling final line." Little Bird Book Blog
"An unusual and clever book which you will particularly enjoy if you love stories which are part reality and part fantasy with a chilling atmosphere." Twisted In Pages
"The structure of the book is what really ramps the tension up . . . Events in the present take on a different light each time we learn more about the past." SFBook.com
"It's a dark and sinister read that gets more menacing as you go along. I was gripped." Jennifer Lisa Hill
Advance reader comments:
"A.J. Elwood's exquisite, sharply observed prose brings out the eerie in the everyday, and makes the fantastical seem natural." Catriona Ward, author of The Last House on Needless Street
"The Cottingley Cuckoo lures you in with its charm and cleverness, and then, wow, it knocks you for a loop and leaves your head pleasantly spinning. A sharp mix of mystery, fantasy, and psychological horror that also explores the weight and wages of motherhood." Paul Tremblay, author of Survivor Song and Cabin at the End of the World
"The Cottingley Cuckoo consistently took my breath away – a sweet but chilling marriage of real life and make-believe, and a beautifully voiced observation that the truths inside us are oftentimes the most difficult to face. Magic realism at its captivating best, I loved every page." Rio Youers, author of Lola on Fire
"In The Cottingley Cuckoo, A.J. Elwood has created a seductive tale with a sinister edge, where nothing is quite as it seems. Written with great subtlety and skill – and a good serving of chilling menace – this dark fairy tale is both a study of human obsession and a hymn to the power of storytelling itself – I was captivated." Katherine Clements, author of The Coffin Path
"If fairy tales never go out of fashion, it is because of books like this. This is a wonderful tale on magic, poetry, motherhood, and ultimately, us." Francesco Dimitri, author of The Book of Hidden Things
"Reality and folklore weave together so tightly in The Cottingley Cuckoo that new mother Rose can barely tell one from the other. A.J. Elwood builds a sense of creeping dread that will keep you breathless to the end." Angela Slatter, author of the World Fantasy Award-winning The Bitterwood Bible
"An unsettling Gothic novel which switches effortlessly between a modern setting and the familiar – yet unfamiliar – world of England's pastoral past. Elwood's writing is confident, crystal-clear, and deeply evocative; a vein of deep cruelty and ancient horror runs through the book from beginning to nightmarish end. I found it absolutely impossible to put down." Ally Wilkes, Horrified Magazine
"The Cottingley Cuckoo is a smouldering, suspenseful and gloriously sinister exploration of the old, bad brand of fairies. I loved every word, and the ending had me chilled to the bone." Camilla Bruce, author of You Let Me In
"The Cottingley Cuckoo cleverly merges fairytales and more disquieting folklore, but an even greater triumph is its depiction of the fears and disorientation of the early weeks of parenthood. I loved every moment of this haunting tale of fairies, changelings and delusions." Tim Major, author of Hope Island
"There's nothing whimsical in A. J. Elwood's novel that references the Cottingley photos. It's modern changeling tale that pulses with the malice of the original fairy lore." Priya Sharma, author of All the Fabulous Beasts
"The Cottingley Cuckoo is a marvel . . . Twist follows twist, the unease maintained right until the last page." Marian Womack, author of The Swimmers
"A fairytale as they're meant to be, The Cottingley Cuckoo is a masterclass in tension, paranoia, and a rising sense of deep dread. Elwood's deft characterisation and sharp prose ensures that this whole story feels real, even when fact and fantasy become inextricably entwined." Tim Lebbon, author of Eden and The Silence
"Beautifully written, The Cottingley Cuckoo is a wonderful plaiting together of ancient and modern, at once melancholy and strange. I enjoyed it immensely." J.S. Barnes, author of Dracula's Child
"A.J. Elwood is expert at weaving fairy-tale lore with psychological menace in The Cottingley Cuckoo; a tale that grips you to the last page." Marie O'Regan, author of The Last Ghost and Other Stories and editor of Wonderland and Cursed