Behind the Book – The Cottingley Cuckoo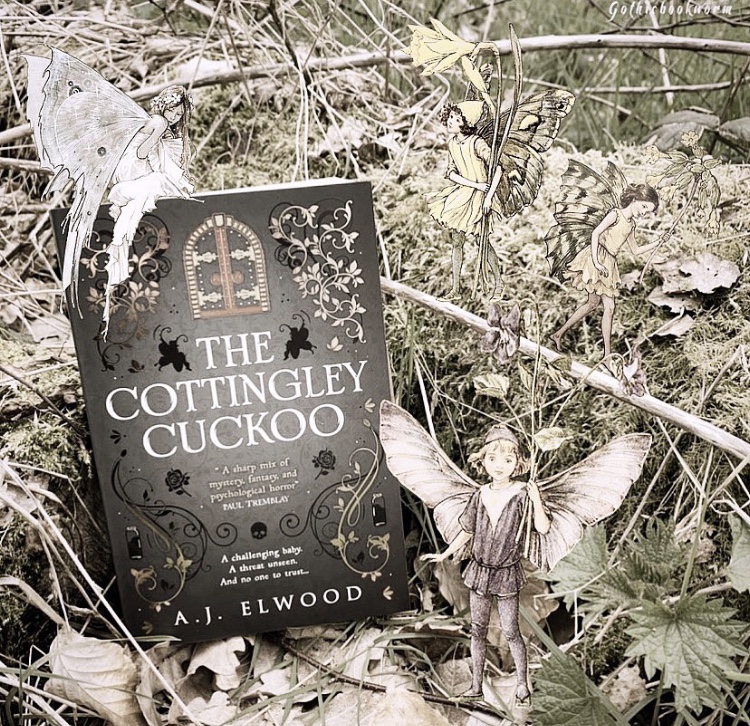 The Cottingley Cuckoo – April 2021.
From the cover:
Captivated by books and stories, Rose dreams of a life away from the confines of the Sunnyside Care Home she works in, until elderly resident Charlotte Favell offers an unexpected glimpse of enchantment.
She keeps an aged stack of letters about the Cottingley Fairies, the photographs made famous by Arthur Conan Doyle, but later dismissed as a hoax. The letters insist there is proof that the fairies existed. Rose is eager to learn more, but Charlotte allows her to read only a piece at a time, drawing Rose into her web.
As the letters' content grows more menacing, Rose discovers she is unexpectedly pregnant, and feels another door to the future has slammed. Her obsession with what really happened in Cottingley all those years ago spirals; as inexplicable events begin to occur inside her home, she begins to entertain dark thoughts about her baby and its origins.
Cover reveal and extract:
See the original cover announcement and read an extract at Ginger Nuts of Horror.
News from Titan
More information and purchasing information from the publisher, Titan Books.
Looking Ahead – news of The Cottingley Cuckoo at Titan's blog. "This dark, chilling fairy tale is an eerie reimagining of the famous Cottingley fairy photograph hoax of the 1920s . . . an atmospheric and enthralling read, dripping with a sinister edge that will keep readers gasping until the final, disturbing conclusion. You have been warned."
In the Media
Folklore and fairy tales, Cottingley and writing matters: the Night Parlor podcast by Joshua Rex.
The Cottingley Cuckoo, writing career and three favourite books – the Bloody Good Reads podcast.
An interview is up at Runalong the Shelves.
Interview on Gayle Lofthouse's mid-morning show, BBC Radio Leeds. (The Cottingley Cuckoo discussion starts at 1:19.)
Featured in BBC Culture article, Why we are Living in Gothic Times.
Interview on Penistone FM, the Alex Barrett Show, Thursday 29th April.
The Cottingley Cuckoo is featured in the Bradford Telegraph and Argus.
The Cottingley Cuckoo is one of author Paul Finch's 'good, dark reads coming your way.'
AJ Elwood's Five Dark Tales of the Good Folk – an article at Ginger Nuts of Horror
AJ Elwood's Five Most Misunderstood Female Fairies – an article at Female First
Reviews
"The character depth was astonishing, the physical descriptions tangible, the aberrant psychology fizzing and tactile . . . it blew me away." Stephen Volk, screenwriter (The Awakening, Ghostwatch) and author of Under a Raven's Wing
"Unease escalates into dread in a very accomplished blend of dark fantasy and psychological thriller." Lisa Tuttle, The Guardian
"Author A.J. Elwood decorates her gingerbread house with all the necessary trappings of a Grimm-esque fairytale – a wicked witch in Mrs Favell, a young maiden made to feel apart from her peers in Rose, and a journey which takes our heroine far from home and the safety of her woodsman. But Elwood isn't content and strips these layers aside with delicious abandon until she gets to the rich black marrow inside her story's bones… Shimmering with wilful insurrection, The Cottingley Cuckoo is a beautiful feminist gothic." Sara Lillwall, ParSec Magazine
"I found this book just incredibly good, so powerful and so true . . . It is not a horror story. It is a horror story. It's just amazing." The Blue Book Balloon
"We have three wonderfully fortean concepts to start with. We all know that fairies, even if they might sometimes be pretty, delicate little winged creatures, are rarely benign, and in A. J. Elwood's The Cottingley Cuckoo we learn (perhaps) just how vindictive they can be…" David V. Barrett, Fortean Times
"Elwood's writing is confident, crystal-clear, and deeply evocative; I found the book deeply chilling, and wouldn't hesitate to recommend it to anyone looking for literary supernatural horror with an interesting and unusual use of its period setting." Ally Wilkes, Horrified Magazine
"The final scenes in both time periods we visit are confrontational, dangerous, and reckless . . . A fascinating tale and well worth a look." RunAlongTheShelves
"Overall, I loved this novel and the amount of depth it had . . . This story enchants its readers and will have them thinking about the book long after you've read the spine chilling final line." Little Bird Book Blog
"An unusual and clever book which you will particularly enjoy if you love stories which are part reality and part fantasy with a chilling atmosphere." Twisted In Pages
"The structure of the book is what really ramps the tension up . . . Events in the present take on a different light each time we learn more about the past." SFBook.com
"It's a dark and sinister read that gets more menacing as you go along. I was gripped." Jennifer Lisa Hill
Advance reader comments:
"A.J. Elwood's exquisite, sharply observed prose brings out the eerie in the everyday, and makes the fantastical seem natural." Catriona Ward, author of The Last House on Needless Street
"The Cottingley Cuckoo lures you in with its charm and cleverness, and then, wow, it knocks you for a loop and leaves your head pleasantly spinning. A sharp mix of mystery, fantasy, and psychological horror that also explores the weight and wages of motherhood." Paul Tremblay, author of Survivor Song and Cabin at the End of the World
"The Cottingley Cuckoo consistently took my breath away – a sweet but chilling marriage of real life and make-believe, and a beautifully voiced observation that the truths inside us are oftentimes the most difficult to face. Magic realism at its captivating best, I loved every page." Rio Youers, author of Lola on Fire
"In The Cottingley Cuckoo, A.J. Elwood has created a seductive tale with a sinister edge, where nothing is quite as it seems. Written with great subtlety and skill – and a good serving of chilling menace – this dark fairy tale is both a study of human obsession and a hymn to the power of storytelling itself – I was captivated." Katherine Clements, author of The Coffin Path
"If fairy tales never go out of fashion, it is because of books like this. This is a wonderful tale on magic, poetry, motherhood, and ultimately, us." Francesco Dimitri, author of The Book of Hidden Things
"Reality and folklore weave together so tightly in The Cottingley Cuckoo that new mother Rose can barely tell one from the other. A.J. Elwood builds a sense of creeping dread that will keep you breathless to the end." Angela Slatter, author of the World Fantasy Award-winning The Bitterwood Bible
"An unsettling Gothic novel which switches effortlessly between a modern setting and the familiar – yet unfamiliar – world of England's pastoral past. Elwood's writing is confident, crystal-clear, and deeply evocative; a vein of deep cruelty and ancient horror runs through the book from beginning to nightmarish end. I found it absolutely impossible to put down." Ally Wilkes, Horrified Magazine
"The Cottingley Cuckoo is a smouldering, suspenseful and gloriously sinister exploration of the old, bad brand of fairies. I loved every word, and the ending had me chilled to the bone." Camilla Bruce, author of You Let Me In
"The Cottingley Cuckoo cleverly merges fairytales and more disquieting folklore, but an even greater triumph is its depiction of the fears and disorientation of the early weeks of parenthood. I loved every moment of this haunting tale of fairies, changelings and delusions." Tim Major, author of Hope Island
"There's nothing whimsical in A. J. Elwood's novel that references the Cottingley photos. It's modern changeling tale that pulses with the malice of the original fairy lore." Priya Sharma, author of All the Fabulous Beasts
"The Cottingley Cuckoo is a marvel . . . Twist follows twist, the unease maintained right until the last page." Marian Womack, author of The Swimmers
"A fairytale as they're meant to be, The Cottingley Cuckoo is a masterclass in tension, paranoia, and a rising sense of deep dread. Elwood's deft characterisation and sharp prose ensures that this whole story feels real, even when fact and fantasy become inextricably entwined." Tim Lebbon, author of Eden and The Silence
"Beautifully written, The Cottingley Cuckoo is a wonderful plaiting together of ancient and modern, at once melancholy and strange. I enjoyed it immensely." J.S. Barnes, author of Dracula's Child
"A.J. Elwood is expert at weaving fairy-tale lore with psychological menace in The Cottingley Cuckoo; a tale that grips you to the last page." Marie O'Regan, author of The Last Ghost and Other Stories and editor of Wonderland and Cursed