Behind the Book – Mistletoe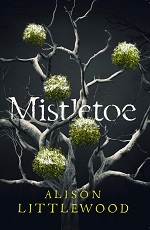 Short-listed for the British Fantasy Society's August Derleth Award.
Published in hardback in October 2019 by Jo Fletcher Books, an imprint of Quercus, and in paperback in September 2020.
Signed hardbacks are available from Forbidden Planet.
Mistletoe – a ghost story with glimpses into the Victorian era, bound up with the folklore of mistletoe and the origins of midwinter festivals . . .
From the cover:
Leah thought Maitland Farm could give her a new life – but now old ghosts are dragging her into the past.
Following the tragic deaths of her husband and son, Leah is looking for a new life. Determined to bury her grief in hard work and desperate to escape Christmas and the reminders of what she has lost, she rushes through the purchase of a run-down Yorkshire farmhouse, arriving just as the snow shrouds her new home.
It might look like the loveliest Christmas card, but it's soon clear it's not just the house that needs renovation: the land is in bad heart, too. As Leah sets to work, she begins to see visions of the farm's former occupants – and of the dark secrets that lie at the heart of Maitland Farm.
If Leah is to have a future, she must find a way to lay both her own past and theirs to rest – but the visions are becoming disturbingly real . . .
In the Media:
Featured in The Best Horror for Snowy Days at Breaking the Glass Slipper.
Mistletoe is one of the festive recommendations on the Hannah's Bookshelf Christmas Special, North Manchester FM.
Mistletoe is one of Crimesquad's top ten for 2019 Christmas crime.
Unmissables! Mistletoe is one of Heat Magazine's Hot New Books: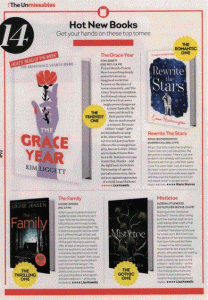 "Frightfully good!" Mistletoe is a Halloween pick in the Sunday Express.
Mistletoe is one of Bookriot's 'Best Spooky Books' for autumn.
Featured in an interview at Breaking the Glass Slipper.
Winter Chills: Five of the Best – I share my top winter reads at Ginger Nuts of Horror.
BBC Radio Leeds – Richard Stead Breakfast Show (in the slot beginning at 1:50).
An author interview is up now at Nest of Books.
Halloween Q&A at Bookends.
Read writer Ellen Lavelle's account of a Mistletoe-strewn evening at Lindum Books.
An interview by Alyson Faye at The Horror Tree.
Another interview, this time at Kendall Reviews.
An audio interview hosted by author Madeleine D'Este is up now at Write Through the Roof.
Reviews:
"Her best yet . . . Mistletoe is a creepy, page-turning triumph enlivened with excellent folkloric details, beautiful descriptions of winter landscapes and sensitive characterisation." Eric Brown, The Guardian
"This chilling slice of ghostly Gothic fiction is the perfect read for the upcoming frosty nights." Lisa Howells, Heat Magazine.
"A tour de force of brittle tension, its wintry crispness metamorphosing into the bleak isolation of Leah, a wife-and-mother in mourning." Sara Lillwall, ParSec Magazine.
"A superior haunted house story, then, and one with plenty of heart, too." The Crack
"The snowy landscape of contemporary Yorkshire adds an extra chill to Alison Littlewood's spooky ghost story. Before long, echoes of the past start to intrude on Leah's present as a deceased family seem intent on taking the place of the one she's lost." Eithne Farry, Sunday Express.
"The snow's a-lying heavy on the barren fields and the wind's a-wuthering through the blighted orchard . . . but Leah's a stayer, even when she finds herself re-living a 19th century Christmas nightmare in this time-slippy tale of loss, lust, grief . . ." Daily Mail.
"Mourning the deaths of her husband and son, Leah retreats to an isolated Yorkshire farmhouse just as the snow sets in and Christmas approaches. But the former residents make their presence felt, in this super spooky blend of murder mystery and old fashioned wintry ghost story." The People Magazine.
"A Christmas ghost story which sensitively deals with grief and loss. This is a perfect spooky book to snuggle up with on a frosty night." Bookriot.
"Alison Littlewood masterfully set the scene for this thrilling read in the first few chapters like a true great of the genre (Shirley Jackson springs to mind – with the brooding horror and tension captured within Littlewood's prose) and in doing so creates a dark, and disturbing book. Amanda Brightman, Storgy
"Littlewood has created a realistic and fascinating protagonist with whom readers can sympathise. Add to this some exemplary uses of landscape that would make a Bronte proud, and readers will find that Mistletoe is horror as it should be, a classic ghost story for our modern times." Starburst Magazine
"Mistletoe is the latest offering from Alison Littlewood – a deeply emotive ghost story set in rural Yorkshire, and I think it might be her best yet. As always, the author vividly depicts the landscape of this novel and populates it with characters that speak to the heart. Highly recommended." Marie O'Regan, Sci-Fi Bulletin
"This is no benevolent past that's coming back to haunt her . . . You'll be feeling pretty damn cold in every sense at the end of this creepy number." Sunday Sport.
"The setting in Mistletoe is sublime . . . You can feel the cold emanating from off the pages and there is some evocative imagery on display with the snow-covered landscape . . . Mistletoe is a terrific ghost story and one that would make for ideal reading on those cold, dark and lonesome winter nights." The Tattooed Book Geek.
"Littlewood links the whole timeline of events to mistletoe and its appearance in folklore down the years. It is cleverly done and you do start to get into the characters quickly, aided by vivid descriptions of Christmas past… a classic ghostly tale." Stokie Boy
"The writing is very evocative and this is truly the perfect time of year to read this book. . . . the weather, the looming clouds, the burgeoning snow and the short days all add to the atmosphere because they are particularly well written.  In fact, there are a few ghostly moments contained in these pages that I confess set my pulse racing." Lynn's Book Blog
"It is, simply, a delight to read, a horror story but also a beautiful study of a woman very close to the edge, of friendship, loss and courage. Strongly recommended. (This book would definitely make an atmospheric Christmas read – or present – if you're looking for one). Blue Book Balloon
"WOW! I absolutely loved this book from start to finish . . . This is the first book I have read by Alison Littlewood but after reading this, it definitely won't be the last. It was well written and absolutely brilliant!" Stressed Rach Blog
"Mistletoe is best savoured in front of a fireplace on a long winter's night, preferably accompanied by hot punch and mince pies.  However, its delightful brand of spookiness ensures that, like Dickens' seasonal novels, it can be enjoyed all the year round." To the End of the Word
"All in all, Mistletoe is a number of things; chilling, atmospheric, evocative . . . Littlewood has written a great novel, and if you enjoy ghost stories and mysteries, this is definitely a book  for you." Page Turner's Nook
"With the set up beautifully painted in M R James style, the story of Leah and her past was absolutely riveting." Nest of Books
"Past and present are strongly bound in this story and this is one of the elements that makes it so enthralling… there're elements of hope and renewal that are part of the festive season. It was an excellent and fascinating read, highly recommended." Scrapping and Playing
"If that's not a perfect Christmas book, I don't know what is." Hannah Kate, North Manchester FM.
"Mistletoe is a Gothic Christmas tale – full of snow and folklore – with the eponymous plant working as an important symbol throughout the narrative. Leah moves to Maitland Farm, in part, to avoid Christmas, but it seems that some aspects of the season simply refuse to be ignored." Hannah Kate's festive recommendations.
"This was a delicious winter read… it takes the old elements of the ghost story and gives it a modern flourish." Run Along the Shelves
"She writes perfectly a stark landscape that is full of menace." Crimesquad
"Alison makes you, the reader, feel as though you are walking the frozen fields, and living in the run-down farmhouse with her protagonist." Alyson Faye, Kendall Reviews
"Beautifully crafted seasonal novel . . . I recommend reading this for your Christmas ghost story fix." Alyson Faye, Horror Tree