A month away . . . New Fears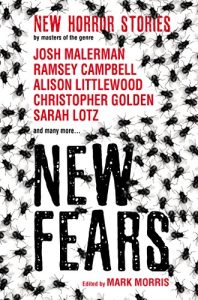 I received an author copy of New Fears today and it looks absolutely splendid – a credit to its editor, Mark Morris, and to Titan Books.
Here's the official blurb:
FEAR COMES IN MANY FORMS
The horror genre's greatest living practitioners drag our darkest fears kicking and screaming into the light in this collection of nineteen brand-new stories. In "The Boggle Hole" by Alison Littlewood an ancient folk tale leads to irrevocable loss. In Josh Malerman's "The House of the Head" a dollhouse becomes the focus for an incident both violent and inexplicable. And in "Speaking Still" Ramsey Campbell suggests that beyond death there may be far worse things waiting than we can ever imagine… Numinous, surreal and gut wrenching, New Fears is a vibrant collection showcasing the very best fiction modern horror has to offer.
It's out a month today – on 19th September – and is already up for pre-order in ebook and paperback versions, at all good outlets.