New story in a bird-themed anthology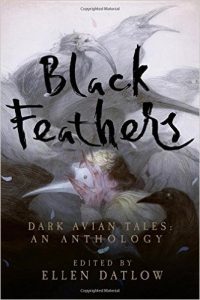 A new short story, The Orphan Bird, has just been published in this new anthology of avian tales edited by Ellen Datlow.
The full table of contents is:
O Terrible Bird by Sandra Kasturi
The Obscure Bird by Nicholas Royle (reprint)
The Mathematical Inevitability of Corvids by Seanan McGuire
Something About Birds by Paul Tremblay
Great Blue Heron by Joyce Carol Oates
The Season of the Raptors by Richard Bowes
The Orphan Bird by Alison Littlewood
The Murmurations of Vienna Von Drome by Jeffrey Ford
Blyth's Secret by Mike O'Driscoll
The Fortune of Sparrows by Usman T. Malik
Pigeon from Hell by Stephen Graham Jones
The Secret of Flight by A.C. Wise
Isobel Avens Returns to Stepney in the Spring by M. John Harrison (reprint)
A Little Bird Told Me by Pat Cadigan
The Acid Test by Livia Llewellyn
The Crow Palace by Priya Sharma
Here's what This Is Horror had to say in their review, which can be read in full on their website.
"Alison Littlewood's 'The Orphan Bird' is about a young, reclusive artist by the name of Arnold who prefers solitude to society. Littlewood leads us to feel sorry for Arnold, perhaps even pity him given all that he has been through and the bullying he has had to endure. But this author knows what she is doing as the story soon takes a much more menacing turn. Littlewood utilises flashback scenes from Arnold's childhood encounters with bullies to offer insight into the adult character, and this also works to help slowly build the dread and atmosphere of the story. The ending is also suitably haunting, leaving the reader squirming with unease."